Express Entry Draw: 557 PNP Applicants issued ITA for PR
Immigration, Refugees and Citizenship Canada (IRCC) IRCC on 12th May 2021 issued an Invitation to Apply (ITA) for Permanent Residency (PR) to 557 Provincial Nominee Program (PNP) Applicants.
The latest Express Entry draw closed at a score of 752 and 557 eligible applicants received an ITA. All these applicants mandatorily required a PNP nomination. The applicants who have a provincial nomination through an Express Entry-linked-PNP, get 600 additional points added to their Comprehensive Ranking System (CRS) score. This is why the score requirements for PNP approved applicants is so high, without the PNP nomination, the score would be just 152.
IRCC always publishes a cut-off time for the tie-break rule as part of an administrative requirement, whether or not there was an actual tie. In this draw, the cut-off time was 29th April 2021, 10:18:12 am UTC, only those applicants who submitted their profile before this time were considered for the draw.
Tip: It has been observed that PNP applicants with Canadian work experience get an edge during the draw. One year Canadian work experience can get you 40 points on the CRS.
Express Entry – Canada 2021
Ever since 2021 has begun, Express Entry draws have only invited applications for the Provincial Nominee Program (PNP) and Canadian Experience Class (CEC). The reason being the travel restrictions imposed due to COVID-19 which do not allow approved permanent residents to come to Canada from abroad. IRCC is doing everything possible to achieve its target of 401,000 new-comers in 2021. Through Express Entry managed programs alone, IRCC has set a target of welcoming 108,500 new-comers and till date, 62.328 applicants have been issued ITA.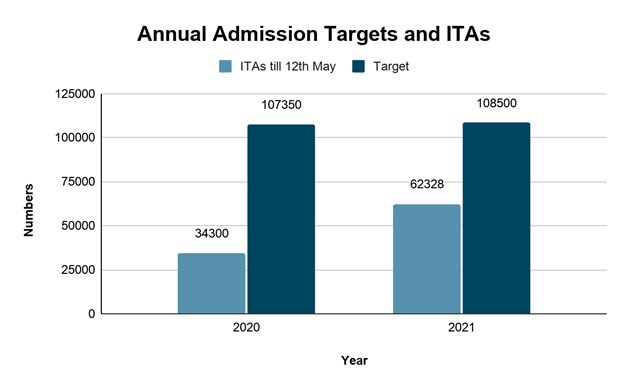 Below is a graphical representation of the last 10 Express Entry draws held in 2021.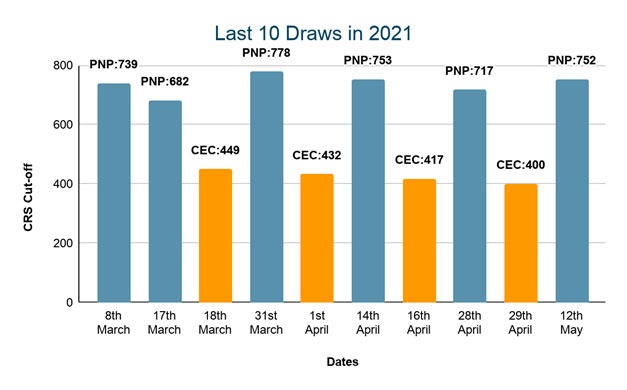 Want to know more about Express Entry programs, contact us right away.