Settling in Canada permanently after finishing graduate and post graduate programs here is a dream for most of international students.
Sometimes it is much better to plan about your permanent residency. It will be much easier and smoother for students to transit from temporary to permanent resident status if they plan it at the time of choosing your program and Institute in Canada.
Out of the various permanent residency programs one of the very famous one these days is the British Columbia permanent residency program which is called the Bcpnp.
Most permanent residency programs of Canada are work experience and/or job offer/employer oriented but Bcpnp has a special category for Science, engineer and agricultural background post graduate students. If a student choose to pursue masters program in Canada related to these fields in the eligible institutes of British Columbia then he/she can apply Bcpnp provincial nominee program upon completion of study Without any work experience or job offer from Bc employer the only requirement of the program is candidate must successfully graduate from one of the eligible masters programs in British Columbia.
Some of Institutes are offering Eligible programs

*

New York Institute of Technology

Trinity Western University

British Columbia Institute of Technology

Thompson Rivers University

University of Northern British Columbia

Royal Roads University
* Only Selected Program
Quick facts about the program

No experience needed

No job offers required

No minimum English language requirement for express stream of program

No minimum funds required for non express stream of program

Spouse and dependent children can get nomination with applicant.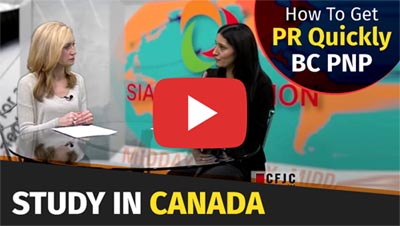 Program Requirements
1) a master's or doctoral degree received within the past three years from an eligible program at a post-secondary institution in B.C.
Your graduate degree (master's or doctorate) must be in one of the following programs of study in the natural, applied or health sciences:

agriculture, agriculture operations and related sciences

biological and biomedical sciences

computer and information sciences and support services

engineering

engineering technology and engineering-related fields

health professions and related programs

mathematics and statistics

natural resources conservation

physical sciences
2) ability and intent to live and work in B.C.
An essay about your intention to settle in bc