Search Programs Colleges And Universities Canada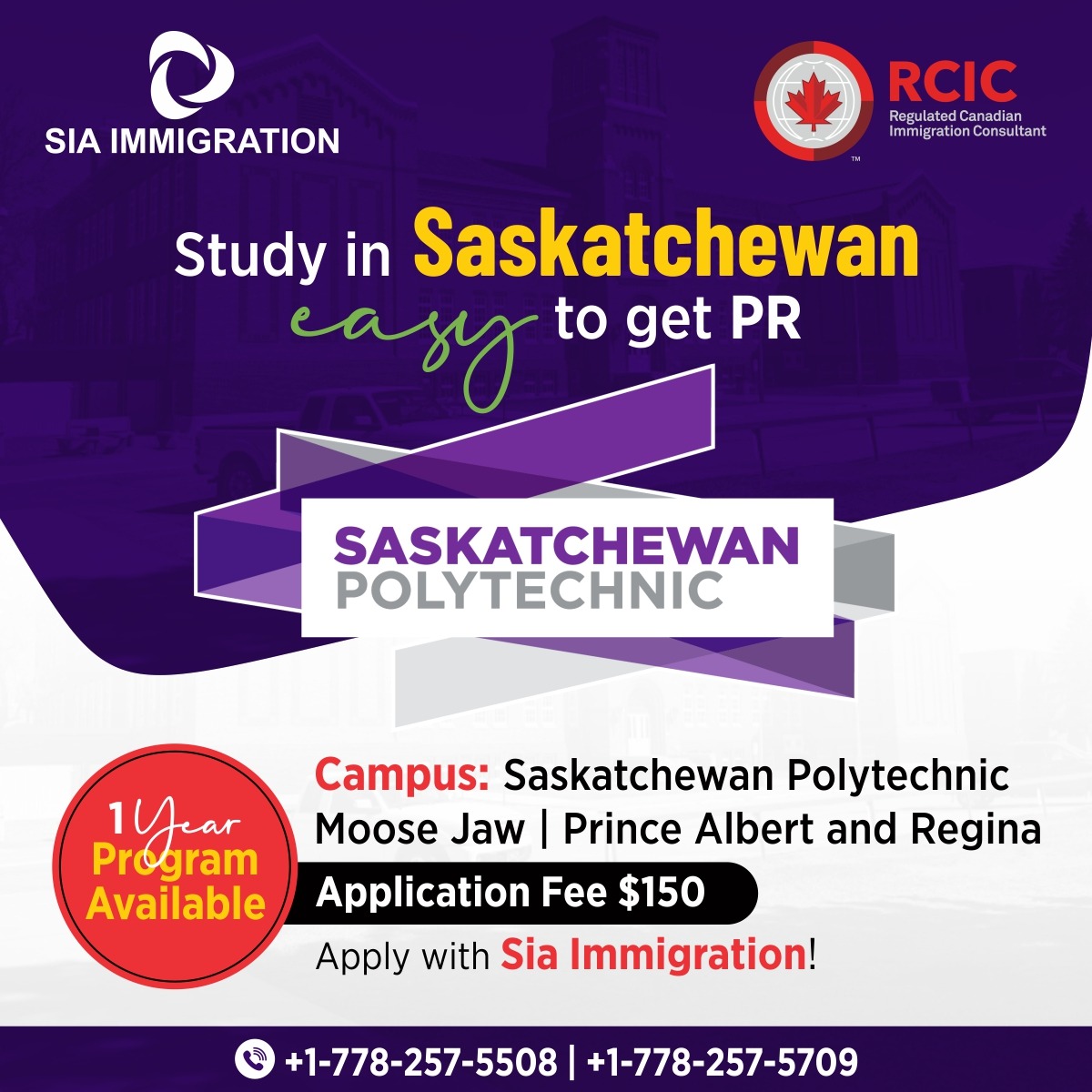 Saskatchewan Polytechnic was founded in the year 1959. This public college enlightens the students with practical and academic knowledge at campuses in Moose Jaw, Prince Albert, Regina and Saskatoon.
CAMPUS LOCATION OF SASKATCHEWAN POLYTECHNIC
Saskatchewan Polytechnic comprises four campuses in Saskatchewan:
Moose Jaw Campus | 600 Saskatchewan St W, Moose Jaw, SK S6H 4R4
Regina Campus | 4500 Wascana Parkway, Regina, SK S4S 5X1
Saskatoon Campus | 55 33 St E, Saskatoon, SK S7K 0R8
Prince Albert Campus | Technical Building, PO Box 850, Prince Albert SK S6V 5S4
ADMISSION REQUIREMENT
To reserve your seat in any undergraduate program at Saskatchewan Polytechnic College the minimum level of education required is Class 12th with a min GPA of 50.0% or more and for a bachelor's Degree in GPA required is 70% or more.
ENGLISH PROFICIENCY REQUIREMENTS (IELTS/PTE)
UG PROGRAM IELTS/PTE REQUIREMENT
IELTS overall: 6.5 (Min Listening: 5.0, Min Reading: 5.0, Min Speaking: 5.0, Min Writing: 5.0)
PTE overall: 63 (Min Listening: 50, Min Reading: 50, Min Speaking: 50, Min Writing: 50)
TOEFL iBT: 81 (Min Listening: 19.0, Min Reading: 19.0, Min Speaking: 19.0, Min Writing: 19.0)
Duolingo English Test Score: 105
BACHELOR DEGREE IELTS or PTE REQUIREMENT
IELTS overall: 7 (Min Listening: 5.5, Min Reading: 5.5, Min Speaking: 7.0, Min Writing: 5.5)
PTE overall: 63 (Min Listening: 50, Min Reading: 50, Min Speaking: 50, Min Writing: 50)
TOEFL iBT: 90 (Min Listening: 22.0, Min Reading: 20.0, Min Speaking: 26.0, Min Writing: 20.0)

AVAILABLE PROGRAMS
College Certificate – Automotive Service Technician – TUITION FEE – $18,555.00 CAD
Post-Graduate Certificate – Cyber Security – TUITION FEE – $19,731.00 CAD
College Certificate – Disability Support Worker – TUITION FEE – $16,236.00 CAD
College Certificate – Parts Management Technician + College Certificate – Heavy Equipment Truck & Transport Technician – TUITION FEE – $13,916.00 CAD
College Diploma – Culinary Arts – TUITION FEE – $13,401.00 CAD
College Certificate – Heavy Equipment and Truck Transport Technician – TUITION FEE – $17,524.00 CAD
Bundle Program – Post-Graduate Certificate – Cyber Security (Saskatoon Campus) & Post-Graduate Certificate – Entrepreneurship (Moose Jaw Campus) – TUITION FEE – $21,373.00 CAD
College Certificate – Youth Care Worker – TUITION FEE – $15,720.00 CAD
College Diploma – Design and Manufacturing Engineering Technology – TUITION FEE – $16,494.00 CAD
College Diploma – Food and Nutrition Management – TUITION FEE – $13,916.00 CAD
College Diploma – Library and Information Technology – TUITION FEE – $14,400.00 CAD
College Diploma – Mining Engineering Technology – TUITION FEE – $15,205.00 CAD
College Certificate – Industrial Mechanics – TUITION FEE – $14,432.00 CAD
College Diploma – Therapeutic Recreation – TUITION FEE – $16,982.00 CAD
Post-Graduate Certificate – Software Developer – TUITION FEE – $19,731.00 CAD
College Certificate – Agricultural Equipment Technician – TUITION FEE – $17,782.00 CAD
College Diploma – Computer Systems Technology – TUITION FEE – $17,782.00 CAD
College Certificate – Educational Assistant – TUITION FEE – $13,659.00 CAD
College Certificate – Parts Management Technician + College Certificate – Auto Body Technician – TUITION FEE – $13,916.00 CAD
Post-Graduate Certificate – Cloud Computing and Blockchain – TUITION FEE – $16,441.00 CAD
College Certificate – Machinist – TUITION FEE – $17,782.00 CAD
English for Academic Purposes – TUITION FEE – $8,200.00 CAD
College Diploma – BioScience Technology – TUITION FEE – $16,751.00 CAD
College Diploma – Early Childhood Education – TUITION FEE – $12,886.00 CAD
College Diploma – Hotel and Restaurant Management – TUITION FEE – $13,143.00 CAD
College Diploma – Mechanical Engineering Technology – TUITION FEE – $16,494.00 CAD
College Diploma – Power Engineering Technology – TUITION FEE – $16,723.00 CAD
College Certificate – Occupational Health and Safety – TUITION FEE – $16,015.00 CAD
College Certificate – Auto Body Technician – TUITION FEE – $15,463.00 CAD
Bachelor of Science – Nursing – TUITION FEE – $22,933.00 CAD
College Certificate – Continuing Care Assistant – TUITION FEE – $13,916.00 CAD
Post-Graduate Certificate – Artificial Intelligence and Data Analytics – TUITION FEE – $16,442.00 CAD
College Certificate – Fabricator – Welder – TUITION FEE – $18,040.00 CAD
College Certificate – Parts Management Technician + College Certificate – Agricultural Equipment Technician – TUITION FEE – $13,916.00 CAD
Bundle Program – Post-Graduate Certificate – Artificial Intelligence and Data Analytics (Saskatoon Campus) & Post-Graduate Certificate – Entrepreneurship (Moose Jaw Campus) – TUITION FEE – $16,441.00 CAD
College Certificate – Welding – TUITION FEE – $17,782.00 CAD
College Diploma – Chemical Technology – TUITION FEE – $15,205.00 CAD
College Diploma – Electronic Systems Engineering Technology – TUITION FEE – $15,720.00 CAD
College Diploma – Interactive Design and Technology – TUITION FEE – $13,401.00 CAD
College Diploma – Media Production – TUITION FEE – $13,143.00 CAD
College Diploma – Recreation and Tourism Management – TUITION FEE – $12,628.00 CAD
College Certificate – Parts Management Technician – TUITION FEE – $13,916.00 CAD
College Certificate – Fabricator – Welder – TUITION FEE – $18,040.00 CAD
College Certificate – Computer Automated Systems Technician – TUITION FEE – $15,720.00 CAD
College Diploma – Graphic Communications – TUITION FEE – $13,143.00 CAD
College Diploma – Practical Nursing – TUITION FEE – $18,052.00 CAD
College Diploma – Business Information Systems (Co-op) – TUITION FEE – $14,947.00 CAD
Bachelor of Science in Nursing – TUITION FEE – $22,933.00 CAD
College Certificate – Parts Management Technician – TUITION FEE – $13,916.00 CAD
Bundle Program – College Certificate – Parts Management Technician (Regina Campus) + College Certificate – Carpentry (Moose Jaw Campus) – TUITION FEE – $13,916.00 CAD
College Certificate – Computer Networking Technician – TUITION FEE – $17,267.00 CAD
College Certificate – Machinist – TUITION FEE – $17,782.00 CAD
College Certificate – Welding – TUITION FEE – $17,782.00 CAD
College Diploma – Innovative Manufacturing – TUITION FEE – $17,524.00 CAD
English for Academic Purposes – TUITION FEE – $8,200.00 CAD
College Diploma – Computer Systems Technology – TUITION FEE – $17,782.00 CAD
Bachelor of Applied Management – TUITION FEE – $18,151.00 CAD
Bundle Program – College Certificate – Parts Management Technician (Regina Campus) + College Certificate – Automotive Service Technician (Moose Jaw Campus) – TUITION FEE – $13,916.00 CAD
Post-Graduate Certificate – Cloud Computing and Blockchain – TUITION FEE – $16,441.00 CAD
Bachelor of Construction Management – TUITION FEE – $18,151.00 CAD
College Certificate – Continuing Care Assistant – TUITION FEE – $13,916.00 CAD
College Certificate – Office Administration – TUITION FEE – $13,916.00 CAD
College Diploma – Early Childhood Education – TUITION FEE – $12,886.00 CAD
College Diploma – Interactive Design and Technology – TUITION FEE – $13,401.00 CAD
College Certificate – Auto Body Technician – TUITION FEE – $15,463.00 CAD
College Certificate – Power Engineering Technician – TUITION FEE – $14,295.00 CAD
Post-Graduate Certificate – Artificial Intelligence and Data Analytics – TUITION FEE – $16,442.00 CAD
Bundle Program – College Certificate – Parts Management Technician + College Certificate – Auto Body Technician – TUITION FEE – $13,916.00 CAD
Bundle Program – Post-Graduate Certificate – Artificial Intelligence and Data Analytics (Regina Campus) & Post-Graduate Certificate – Entrepreneurship (Moose Jaw Campus) – TUITION FEE – $16,441.00 CAD
College Certificate – Building Systems Technician – TUITION FEE – $15,978.00 CAD